It's winter! You can sew a basic pair of women's ski and snow pants in under an hour – and you can wear them whenever it's cold (not just for skiing or hiking or sledding.)
Last winter, after cross country skiing in fleece leggings, I decided it was important to have a second layer (brrrr!) and a wind blocking one too. I grabbed a basic elastic waist pant pattern designed for knit fabrics (this is key!) and sewed myself what have become my favorite winter everyday walking-the-dog-sitting-at-my-desk pants too.
I chose the Christine Jonson Patterns Taper and Wide Leg Pant. Why this pattern: It's a no-side-seam basic elastic waist pant that can be sewn in about 40 minutes, and it comes with both a wider fuller leg pant and a taper pattern that fits like loose leggings. This pant still tapers to the ankle, but I have one zillion posts on this pattern where I go straight to the hem from the knee like palazzo pants. It's designed for stretch fabrics, so there is no extra ease at the waist and hip like you'd find for a woven fabric, so you need stretchy fabrics for this!
The pant features shaping at the waist suitable for sewing with knit fabrics, and there's even an 'in the dart' instruction and pocket pattern that's pretty cool (I did not use it on the ski pants, but I'll share an alteration for making a cargo pocket for your phone and your ski pass in a future blog. The elastic waist is fold and stitch (casing or as the pattern instructs, serged or zigzagged elastic on the wrong side of the waistband, then turned and topstitched with a zigzag.) I narrowed the pant leg a little in the middle – I started at 0 at the crotch and 0 at the hem, and then took off 1/2″ (max) near the knee/lower thigh area. I tapered to 0 at the hem and the crotch point. The pants were noisy "whishy" when cross country skiing and the narrowness near the knee has helped this a lot.
In the video, I show you the fabric I'm using (so definitely watch that), as well as the shape of the pants.
Fabric: I chose the windbloc microfleece from Mill Yardage – the makers of Polartec. They are the official Polartec people, and they have had a family and friends run business for years in Malden, MA; the latest owner is a young woman. You can also choose their HardFace, similar properties, more colors (especially if you want to make 'secret snow pants' like I did, and wear them at your desk.)
Mine is a dark chocolate/coffee brown with a grid patterned face (almost like a glen plaid!) and fleece backing. Think of this as fleece lined nice pants!
I also have this windbloc fleece in several other colors and "styles" (one looks like heathered print and two more are the grid in other colors.) They have several other styles including a PowerShield. Many are seconds (great prices, still great quality), some are first quality – definitely look at the options. When they get more in, they will post on social media and email so sign up and follow them regularly.
Sewing your fleece lined ski and snow pants:
The pants pattern and instructions are super basic beginner level. Make them in a cheaper microfleece or sweatshirt or cotton lycra first (note, if you're making ski pants, make a fleece tester one first, as the fit there will be closer to your ski pants later.) Christine has this excellent three step pant fitting guide here to help you. I think it's the easiest and best in the business!
You'll first put right sides together of each leg and sew the inner leg seam. Then, you'll turn one leg right side out, slip it inside the other leg so right sides are together and stitch the crotch seam. Then, you'll turn it right side in and fold and stitch the waistband (you can do either a folded casing, slide the elastic in, stitch the ends and then close the casing OR the method Christine shows in the pattern, which is to stitch the elastic into a loop that fits you and serge or zigzag the elastic to the top of the pants' wrong side, then flip down and topstitch. The latter gives a better look for the elastic waist but the former allows for adjustment if you gain/lose weight.)
Then, you'll hem. Now, if you've used the stretch Polartec fabric, these pants will stretch over your cross country ski boot, your winter boots and your gym shoe or booties. They won't stretch over a downhill or alpine boot, so put the pants on first. But everywhere else, you can keep them in your car and slide them on over any other winter footwear easily.
Note: These are not "ski in the Colorado Rockies all day in 20 degree temps" ski pants – these are more "cross country ski anywhere in 15 degrees and alpine ski in the 30s" ski pants. They're not insulated with Thinsulate. Thinsulate is a non-stretch insulating material and would not work for these pants. You need stretch! You can wear them over a fleece pant or fleece legging for a warmer option. In fact, you can make the tapered pant or legging in fleece and these in Hardface in the wide leg version and wear them together (I have not tried this, probably would alter the waistband depth so one pant was taller than the other.)
Make a slim tapered version of ski and snow pants:
These are trim pants, even in the wide leg version, but if you want an even narrower version, like a loose legging, use the Tapered Pant. You will not be able to stretch them over your winter boots, so you may need a zipper. See my upcoming blog post (linked here when done) for inserting a side seam zipper. That's not a beginner task yet (more like beginner +1) so you'll definitely want to make these without a zipper first.
The tapered ones fit like a pair of slim cross country ski pants and can be worn over a tight fitting base layer legging. The wide leg version can be worn over straight or skinny jeans and cords, or a fleece pant and even a base layer legging, a fleece pant and the wide leg pants over it. If you do that, you want pants under it with the thinnest waistband possible, stretch knit fabric band or sewn-on pajama elastic.
They would make excellent winter hiking pants with the addition of two easy cargo pants on the side, I'll share that in an upcoming video too. Linked here when done.
In the last video segment, I put the pants on with a nice sweater, did a French tuck with the sweater and draped a cashmere wrap over my shoulders – a super chic winter outfit for sitting by the outdoor bonfire at your favorite brewery, or in your yard at your own bonfire. The pants are trim and well fitting so they don't look voluminous. They were so cozy, I kept on the fleece pants and sweater outfit for work! Totally appropriate for my WFH / work from coffee shop life.
So, for the effort of one (or two) pairs of super easy pants, you have a winter knit pant that you can wear walking your dog, hiking, cross country skiing, sledding with your kids, and even downhill skiing (with a base and mid layer.) You can wear them as lined winter everyday pants too.
Design options:
Add a side cargo pocket to each side – either flap with velcro or two-part-zippered or get creative with shaped tops, buttons, etc. on your cargo pocket. Sew Daily has some fun cargo pocket ideas that are more than just a basic cargo pocket.
Add drawstrings to your pant hems – use a looped cord lock style with a cord "keeper" (a loop to slide the cord in). This makes them more "streetwear" looking, and they'll cinch to your winter boots.
Pair your new ski snow pants with:
Christine Jonson Shirred Turtleneck and Ruana (winter chic!)
Jalie Alex quarter zip in fleece (winter skiing, hiking, playing with your kids in the snow)
La Megeve Top from Naughty Bobbin Patterns for a super cozy winter outfit (use high loft fleece for this.)
The Mile End hoodie or sweatshirt from Closet Core patterns
Footwear:
Winter boots, including Uggs, the lug sole Chelsea boot, or any of your favorite winter footwear. These are Sorel waterproof (but not lined) ankle booties. Suitable for dry days that aren't too cold. I'd go with this lace up boot for colder days with more style. Or this one in a fleece lined lug sole Chelsea style for more wintry days.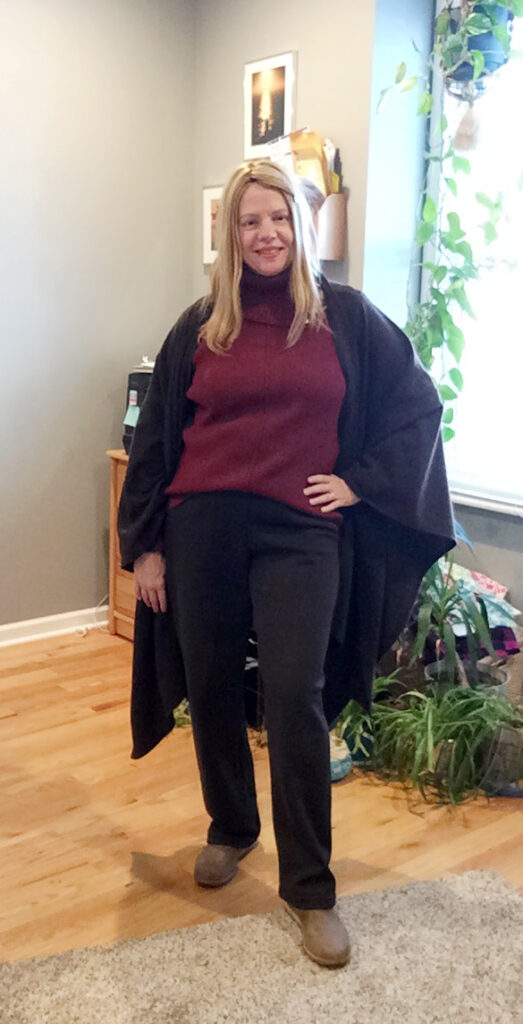 Affiliate notes: For about 5 years, I represented Christine Jonson Patterns as marketing and promotions extraordinaire! Christine and I are still friends but I don't receive anything for this review.