Hear me out – I'm a middle aged mom, but I love local and regional music festivals! Here's my take on what you can sew (and grab from your closet) to wear as a capsule wardrobe for music festival season! You can also wear these items for summer outdoor concerts and art festivals too.
Festival season capsule wardrobe sewing conjures up all sorts of images (like Coachella, Bonaroo, etc.) with boho looks and twenty-somethings in the desert. But my hubby and I created a great adventure at Milwaukee's SummerFest last year that I have to share!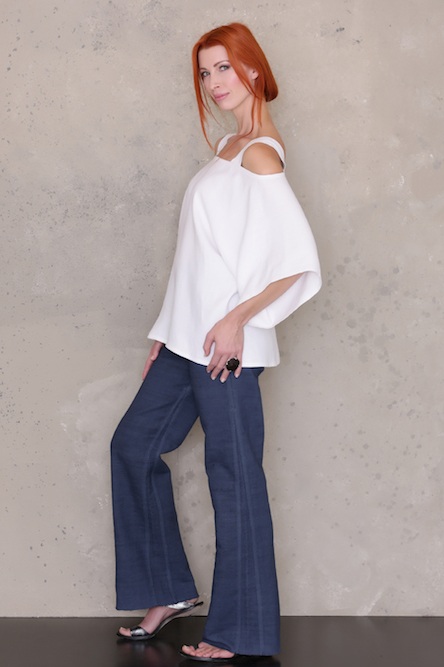 We live across the "big" lake in Michigan, so we drove our car (with bikes) to the LakeExpress ferry. We boarded the ferry (which is MUUCH less expensive with bikes versus cars) with our bikes, and our clothes and stuff in one large bike pannier each (and a backpack each.) The ferry is a high speed one that goes between Muskegon, MI to Milwaukee, WI in about two hours.
Because we had limited space – about 30 cubic liters in our panniers – every outfit had to work. And it was hot some of the days and cool others, so had to plan for that too. Plus, festival season!
I took three main outfits and mixed and matched things from there, here's my take and recommendations as you sew a capsule wardrobe for festival season.
3 tops, 3 bottoms, 2 sandals and 1 kimono, 1 hoodie and one fun dress/tunic.You'll wear one of your outfits to/from/on your travels.
Tops sewing patterns for festival season
For tops, crop tops are all the rage, but I'm a cropped-ish top. I wore the Ann-Normandy Cold Shoulder Crop top which meet-and-greet at the top of my cutoff denim shorts (one of your bottoms you can take, thrifted jeans are great for this.) I danced hard, standing on benches in 89 degree heat and humidity to the Wailers that night! Packed in like sweaty sardines. I had to air out my garments in the hotel shower later!
Bateau neck boxy knit top: the Christine Jonson Boat Neck shell is a great layering basic, and the pattern comes in the Boyfriend jacket (which you should absolutely sew again and again, but not for the festival.)
Boho top: I like either the Poncho Top by Hot Patterns, or the Origami Top (also by Hot Patterns). The latter is more edgy, less boho, with a peekaboo lower back that's GREAT for sweaty festival dancing. I wore the Poncho Top but either would have been perfect.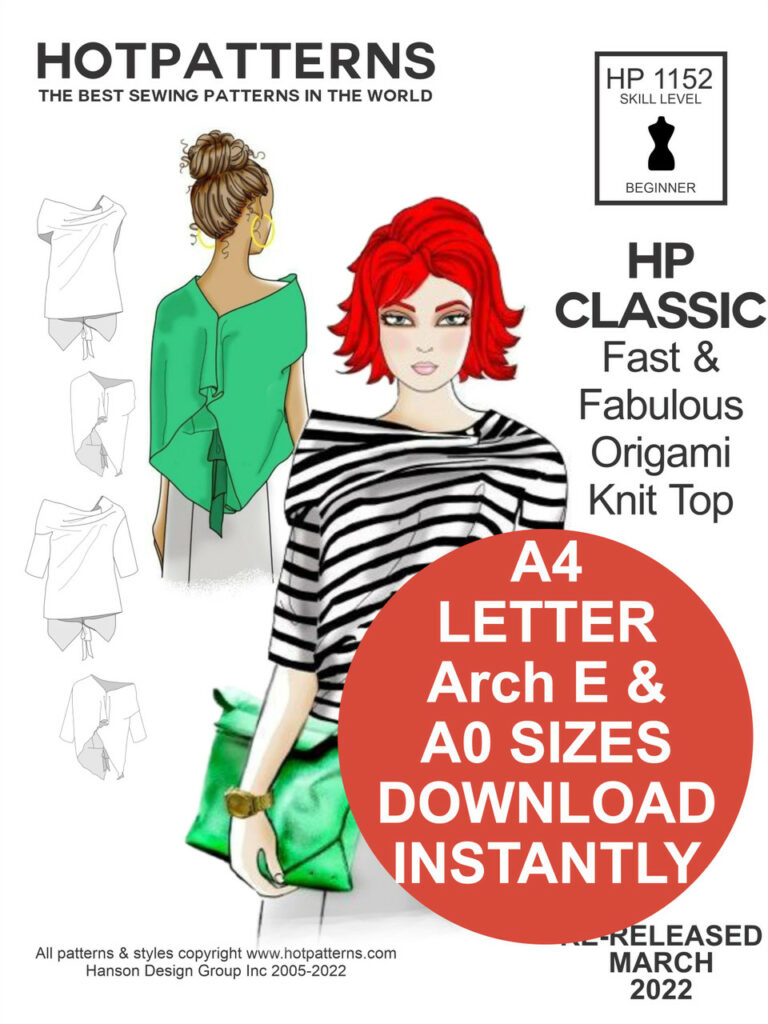 Merchant and Mills Gyo Top – an edgy but fun woven tank top pattern.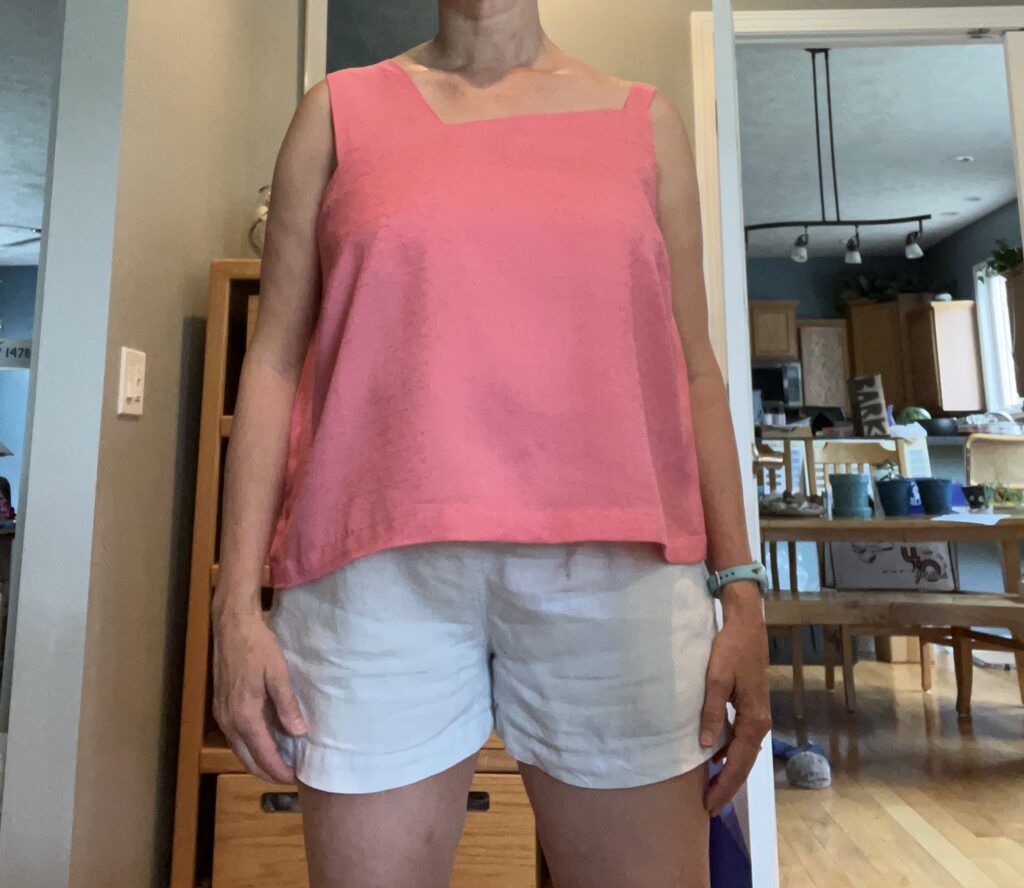 Pants and shorts patterns for festival season
I brought a pair of cutoff denim shorts but I also love the Gypsum Skirt (with sideseam pockets in a panel or just inset pockets) as a midi, floaty skirt for hot festivals. Go edgy with a geometric print or boho with a floral, or even classic with midweight white linen.
Wide leg pants: any basic wide leg elastic waist pant will do – I like a few OOP ones that I have in my stash. I brought some batiked wide leg pants with me.
If you want a wide leg pant that is more structured but not difficult to sew, try the Ann-Normandy Pant – this pant has a side zipper, a narrow waistband, an inset pocket at the waist and gorgeous flare to the hem with a godet on each leg. It is THE Daisy-Jones-and-the-Six vibe for 2023 summer festivals. Make this in heavy linen.
The Ann-Normandy Bermuda short is a slim short version of the Pant listed above, and fits well with a nice, tailored silhouette. Draft/add back patch pockets for your phone to both, or carry a crossbody belt bag. I used a small belt bag big enough for my phone, wallet, bike keys, lipgloss and a small tube of tinted sunscreen.
Sew a kimono for over your outfit for chilly evenings. I like the Dragonfly Kimono but you'll also find these widely available often as free sewing patterns. You can also make the FREE Greenbush Top and Poncho as a poncho in a floaty rayon print for over your outfits too.
You might need a hoodie (if you're camping at a fest or in the north) and for that, the Mile End by Closet Core is a great option, with distinctive seaming and a great V-neckline to show off that festival jewelry. Last year, I danced one night to 88 degree sticky weather for The Fixx and the Wailers reggae band and the next night in a hoodie and pants for Howard Jones and the Indigo Girls. You just never know!
Dress/tunic pattern for festival season
I'm going to sew the super easy one-pattern-piece Mariposa Dress / Tunic from Hot patterns for 2023's festival season for me. This short dress/long tunic has an open back with a floaty cape panel. Light and airy, this is perfect for dancing at music festivals. I'm thinking of making this up and adding some bling for the Taylor Swift concert in Detroit in June (with my teen DD and some of her friends.) I can wear it over jeans or by itself as a short dress. Pro tip: if you're on a bicycle, wear a lightweight pair of bike style undies under the dress. You can sew your own here. I make these as a smoother with rayon lycra or power mesh for more smoothing.
Footwear for festival season
Did I mention I was riding a bike to the music festival? Even if you're not, I swear by Tevas sport sandals. I wore two pair: a Midform Universal and their Hurricane XLT. The latter has a sole that's made for hiking. Those are the only shoes I brought but you can also add in a sneaker (if they're on your feet, you don't have to pack them.) I did not pack a sneaker, I wore the sandals on the ferry, the bike and everywhere in Milwaukee including the music festival.
I got all this, my toiletries, a crossbody bag/fanny pack into a 30L pannier on my bike (and my backpack with ipad, phone, book, laptop, etc. for the hotel.)