My favorite Tailored Trackpants sewing pattern made up in a "grunge" linen/cotton fabric from Essex.
I've made these pants many times, and there are reviews here, here, here and here. I've sewn them with banded cuffs, with elastic cuffs on woven, and in knit fabrics.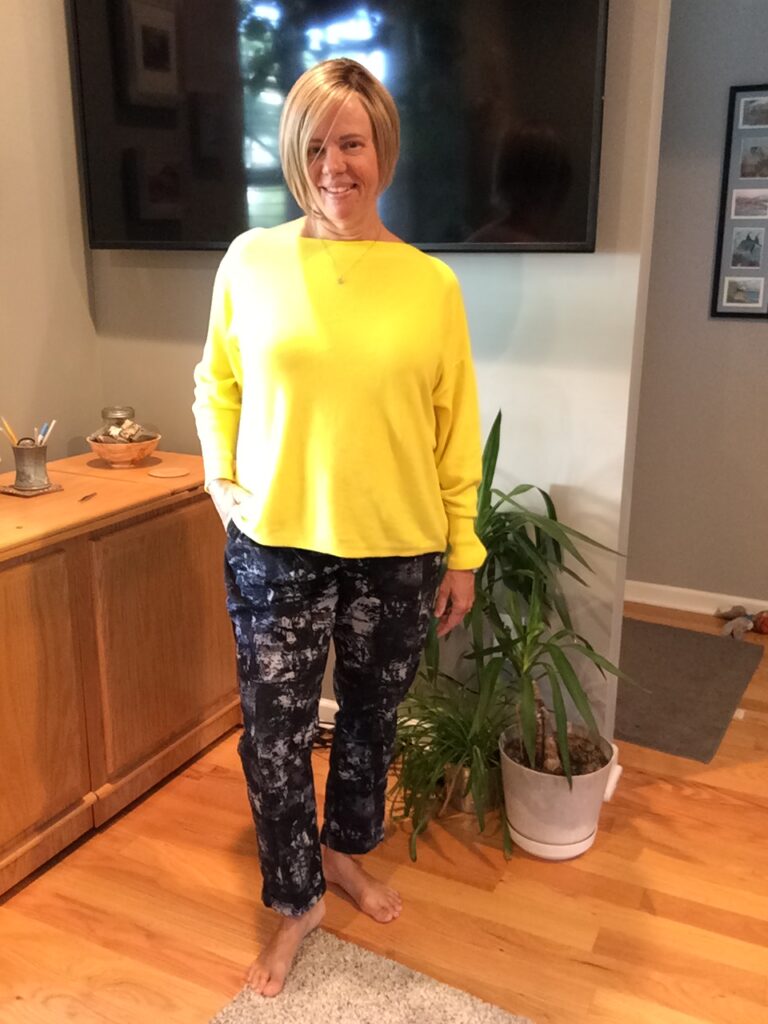 What I love about them is this: they have an awesome back crotch curve. They come with a turn up cuff so they are decently dressy enough to wear to work, or a meeting, should you be doing those. The pants are cut narrow like a jogger, and they have a three channel elastic waist.
Hot Patterns crotch curves are like no other. They are a modified curved L shape in the back and it creates a really great rear view!
The fabric is Essex Cotton linen (55/45) and printed in their Warehouse District print line. I liked it, it's got an edgy look, it's printed without having to match prints! The fabric is fairly weighty so that's why I sewed these in July but just got around to wearing them on September 1st. They will easily go through fall.
HotPatterns shows these worn with a slim fit tee, and that's a great look, but I love them with a slouchy sweater like the one I have on in this video. They also show them worn under the JetSetter Poncho in the pattern illustration drawing. So they are a narrow fit pant with a cropped ankle – really a perfect length for summer-to-fall.
They come up just under the bellybutton, but if you prefer a taller / higher rise, just add to the pattern either midway through the crotch curve, OR at the top of the pants. I usually cut a 12 in these in HP (they track closer to ready to wear than most pattern companies, do, so check the envelope. HP tends to run a little large so measure the pattern pieces against something you like that fits well, factoring in a 1/2″ seam allowance on all seams.
For fall, I acquired a few great things from a Goodwill thrift haul, so these will be paired with a pullover cowl cabled sweatshirt, a cream squared cape and probably a pouf sleeve sweater, all in cream. Plus, of course, a trusty black turtleneck, likely this black velour ribbed Toaster sweater.
And of course, the HP recommended Jetsetter poncho! I don't have one in black or cream or gray, but I do have fleece for it, and I plan to sew one up this fall. It'll be my third such sewing of this poncho (or fourth), and I love it each time.
The trackpants are a great addition to your wardrobe, they fit well, and are an easy make. I lost the instructions but there's a great YouTube video on them.