I had a sweatshirt from a freecycle bag of goodies that had wolves printed on it. Not being of the wolf-outdoors style myself, I decided to upcycle it. I thought about painting over it but decided to applique an edgy fabric scrap over the top. Here's how I did it:
Measure the diagonal of the original design on the shirt. Cut two wider strips of fabric and one longer/narrower one. The exact dimensions are up to you – and the size applique you want to make.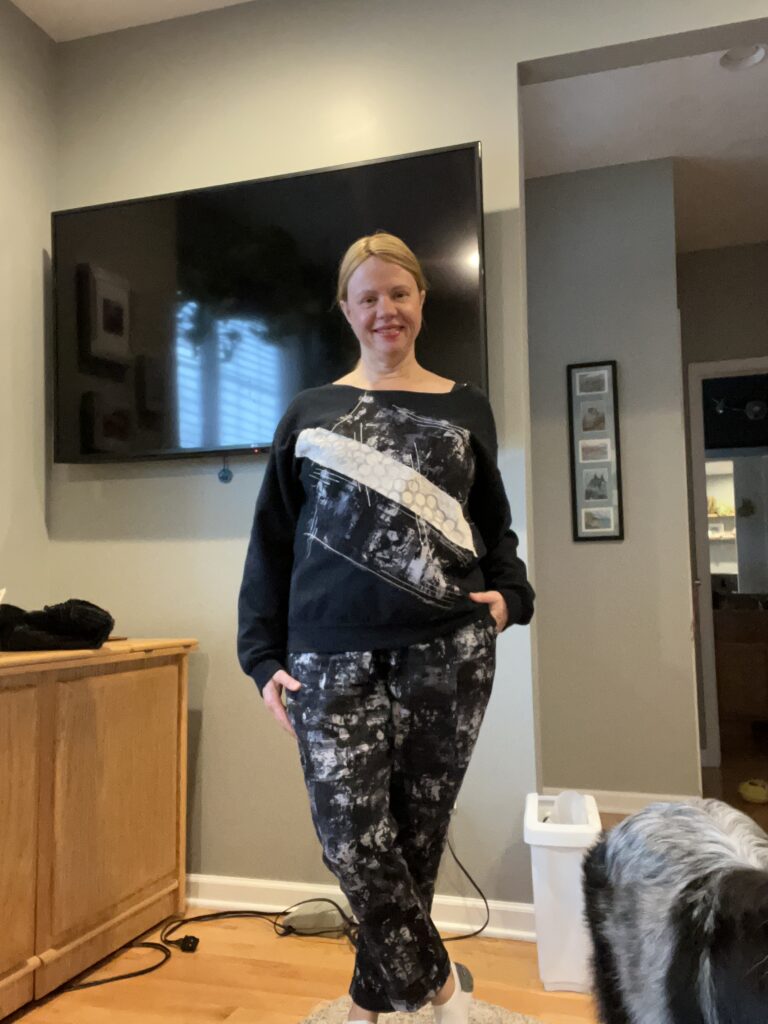 I used Steam A Seam sheets to apply the fabric to the sweatshirt. I left the edges free so they will fray a little with washing. The Steam A Seam can be used to cut out applique and when applied edge to edge, the edges will not fray later. It's two sided, so you can trace or apply an applique to one side and then flip over and fuse/press the design down. It is permanent when ironed.
I constructed this entirely with my sewing machine. Originally I wanted to hand-sashiko stitch a design on, but I've never done that before and I didn't have any designs to trace off, nor any suitable thread. I sat down at my machine (after an afternoon of mending projects) and switched my machine from zigzag to straight stitch – or so I thought. My intention was to just use a long straight stitch to apply them on. But then, when I started stitching, I realized I wasn't in my straight stitch, I was in the triple straight stitch – which actually makes a wide stitch reminiscent of Sashiko thickness embroidery. YAY! This was a total happy accident as I'm sure in thirty years of owning this machine, I have never used that stitch!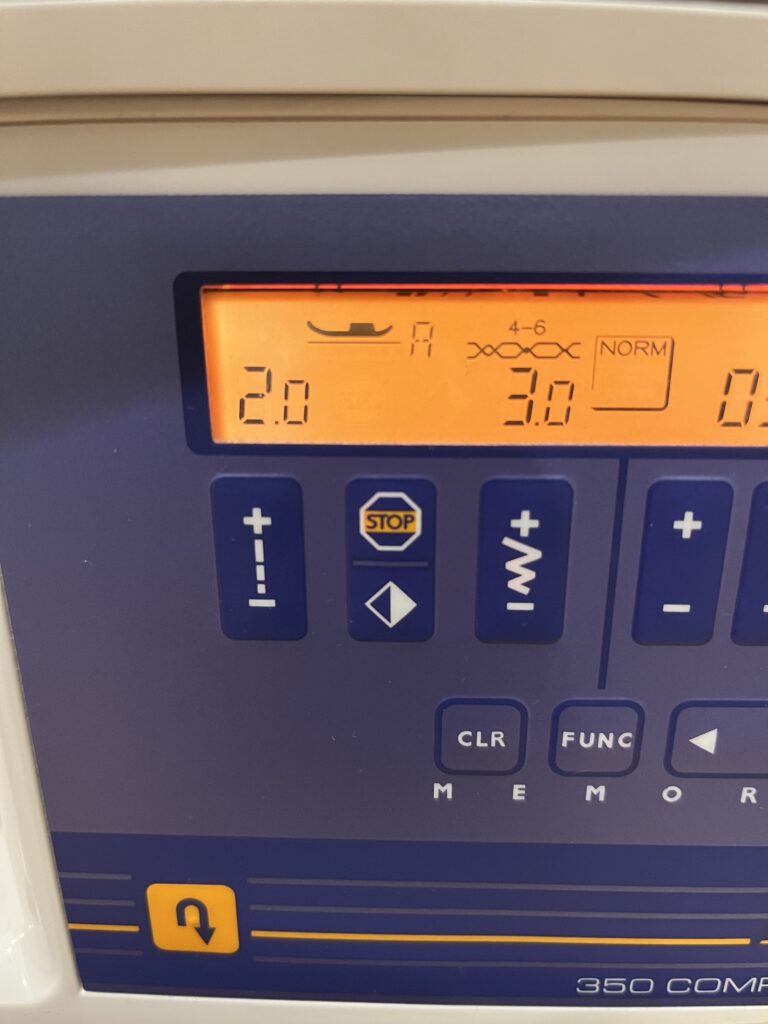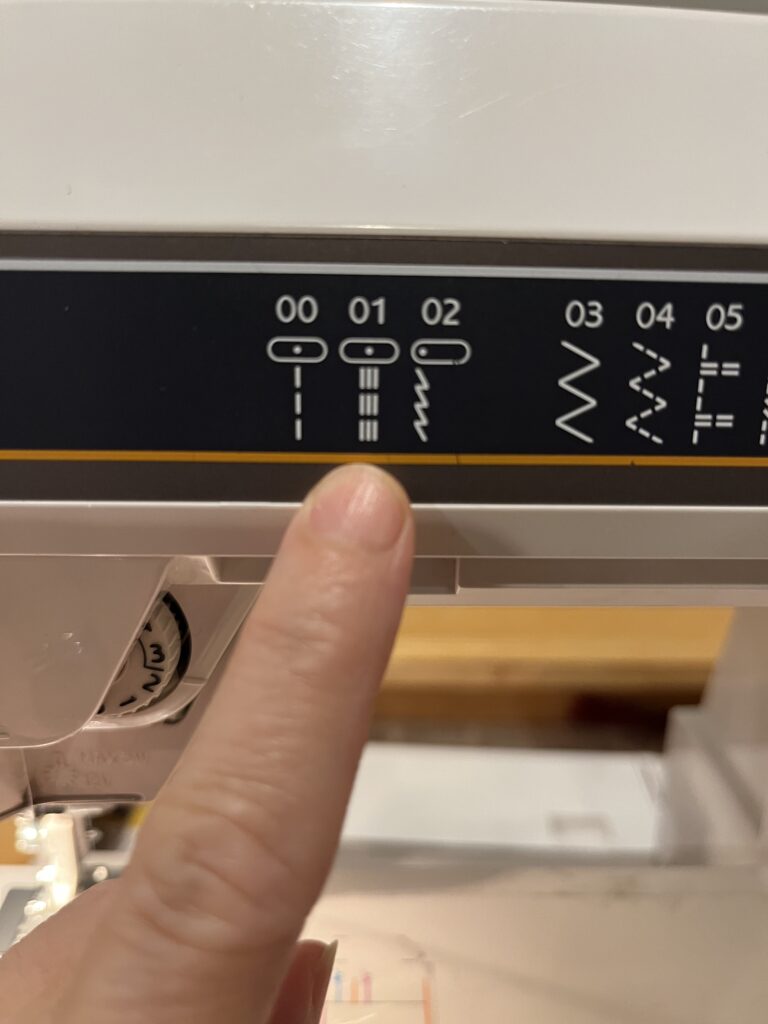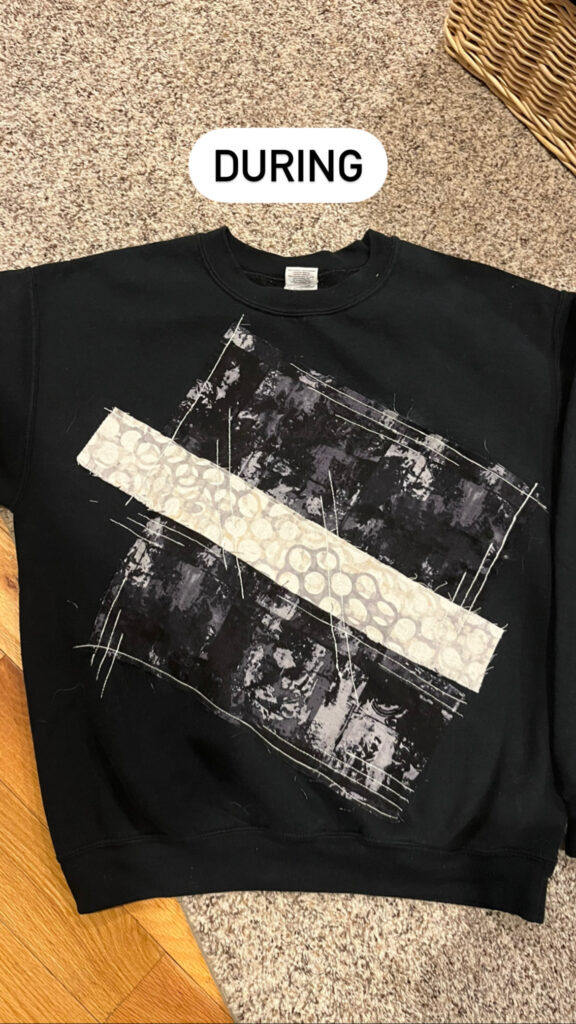 I started and ended each stitch with the stop/lock setting on my machine, so I could simply cut the threads when done. Simply press the stop and it does it's lock stitch thing. Start the next row the same way, then "unlock/un-stop" to sew normally.
When I was done, I cut the neckline a little wider on each shoulder seam (about 1″ wider), and then just below the original ribbing across the neck to give a wide neck. Sweatshirting won't fray, it'll likely roll a little and stretch a bit. A little Flashdance (RIP Irene Cara!)
The fabric I chose are two variants of Warehouse District Linen prints by Essex. I got them a few years ago at my Local Fabric Store, Seams Fabric in East Lansing. I like the prints, they're a little textured looking without having to match prints.
The stitch patterns I chose on the sweatshirt were to secure the ends and sides, and I more or less winged this entire thing. "yeah, that looks good…" was my motto making this. And that was so delightful. This was a zero stress project – I'd not paid for the sweatshirt, the fabric scraps I already had, it was just an hour of enjoyment in the designing, sewing and photographing.
Any thrifted sweatshirt, with any design you don't like is perfect for this upcycle.
The pants are the ankle-cropped Tailored Trackpants from HotPatterns. I make these pants all the time in various fabrics (with the turn up cuffs, or ankle elastic, or even ribbed bands.) The tote bag is faux fur, and I made it probably 20 years ago at a sewing expo as a make-and-take. I used it the other day to take projects to a mending day at Seams and realized I liked it. Faux fur is always in style.
Topping it all off is my free Greenbush Top/Poncho in heavy wool. A great athleisure look.